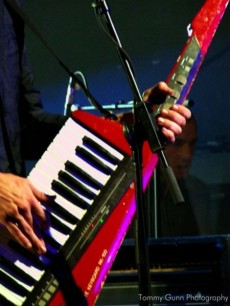 A 23-year-old guy from Amsterdam living in England with what has to be a fake Dunglish accent won a round of talent search show Britain's Got Talent with an 80s parody called 'Back Door Lover'.
Wanting to bring the keytar back to its former glory, Maarty Broekman, sporting a Michael Jackson style leather jacket won sympathy from jury members to make it to the next round.
He can't sing and is pretty bad on the keytar, but for being desperate for attention, he scores pretty big.
(Link: www.standaard.be, Photo of keytar by Thomas Beck, some rights reserved)
Tags: keytar, Maarty Broekman