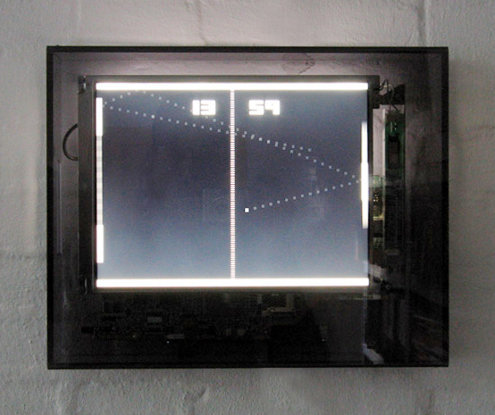 In 2005 designer Sander Mulder created 200 copies of his Pong Clock based on the classic arcade game. The entire run was sold out in a day!
The clock plays a continuous game of Pong, the left hand player scoring once every minute and the right hand player only once every hour.
There is a video of how the clock works here, and some circuit board porn here.
For those who don't know Pong, it was one of the earliest video games and the first video arcade game that gained mass success. It was written in 1972 by Nolan Bushnell and released by his company Atari on 29 November of that year, making it 40 years old. Pong is a fairly boring ping-pong simulation, though the Power Pong game by Dutch artist Mathilde Mupe that I played at Hackers At Large in 2001 was much more entertaining. That version was hooked up to two exercise bikes and if you pedalled faster the game would speed up too.
(Photo: Sander Mulder)