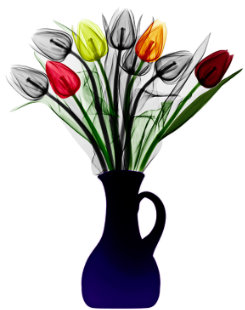 Arie van 't Riet is a medical physicist who became an artist by accident.
One day, his colleague asked him to take an X-ray of one of his art paintings. It was a thin object and van't Riet had never done something like this before, but as he said, "it worked." This got him thinking about what other kinds of thin objects he could X-ray and flowers came to mind. He started with a bouquet of tulips. The analog image, or the silver bromide X-ray film, resembled a black and white negative. It was digitized, inverted, and then selectively colorized in Photoshop. "And then some people told me that's art," he humorously states, "and I became an artist."
Many more amazing colourized X-rays can be found at the My Modern Met article linked above and at Van 't Riet's own website.
(Link: Boing Boing)