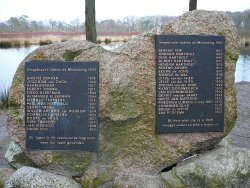 The municipality of Haren in Groningen is considering outlawing the use of metal detectors, Groninger Internet Courant reports (Dutch). The town council wants to prevent people from digging up corpses and ammunition in the Appelbergen forest, where the Nazis buried 34 people they shot in retribution. Fifteen of those victims were never found.
A spokesperson of the municipality told GIC.nl that "The police regularly discover treasure hunters who think its exciting to search the forest. Though the chance is small, we don't want them to start digging and find human remains. There's a much bigger possibility they will find ammunition, also because the forest is a practice area for the army. That could lead to dangerous situations."
Photo of the Appelbergen war monument by Wikipedia user Lampje, some rights reserved.