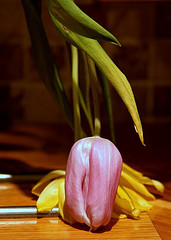 A Dutch newspaper has seemingly let one of their young male interns equate new mothers with their 'bangability' when calling them MILF in an article on the statistics of new mums going back to work after having had their first child. The title of the article is 'New MILFs are working more'.
Luckily, Dutch women and men alike took this pathetic attempt at journalism in stride, but everyone was surprised to say the least. Many people claimed that not all mothers are MILF, and even if someone thinks they are, that's some pretty vulgar language for a mediocre free 'dead tree publication'. This also means that the newspaper thinks it's OK to refer to mothers as MILF, which is 50 freaking shades of wrong.
It is remotely possible that what many imagine to be an idiot of an intern doesn't even know what MILF means, which is almost up there with calling American performer Rihanna a n*****bitch, saying it was meant as a compliment. However, there are editors at a newspaper and obviously they think this is fine.
Are men and women as parents equal in the Netherlands? Not by a long shot.
UPDATE: According to real journalists on FB, the newspaper has claimed that "MILF is not a derogatory term". I'm claiming 'shitty newspaper' and 'shit intern' are nicknames then.
(Links: m.spitsnieuws.nl, Photo of wilted tulip by Graham Keen, some rights reserved)