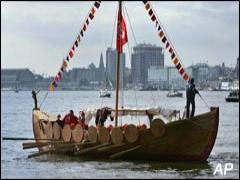 American Robert McDonald, a former Hollywood stunt man now living in the Dutch town of Emmeloord, has built a 45-foot replica Viking ship made of millions of wooden ice cream sticks and more than a ton of glue. It will set sail on Saturday for London at the start of its voyage to America along the same route taken by the Vikings. The ship took five years to build with the help of 5,000 Dutch school children and 15 million sticks.
McDonald named the ship the "Mjollnir" after the hammer of the mythic Norse god of thunder, Thor. After the 13-ton boat was lifted into the water by crane, McDonald stood calmly on the stern as a team of volunteers rowed the apparently sturdy vessel around the IJ River behind Amsterdam's Central Station.
But will it make it? Stay tuned.
(Link and photo: firstcoastnews.com, via dutchnews.nl)