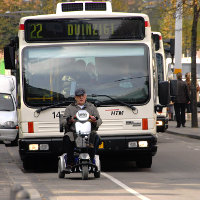 A study commissioned by the Ministry of Infrastructure and the Environment revealed that accidents with mobility scooters involve tipping in 70% of cases.
Plus Online wrote yesterday that 20% of these falls was due to inclines, bumps in the road and the likes, while 14% was due to driver error and 7% because the driver took a turn.
The cause of accidents with mobility scooters has become more relevant as the use of mobility scooters in the Netherlands has increased from 150,000 in 2006 to 250,000 in 2012.
The union for the elderly, ANBO, told Telegraaf yesterday that municipalities should provide training to new users of mobility scooters. Project leader Liesbeth Boerwinkel told the paper that matters such as braking and accelerating are confusing: "You need to squeeze the handle to accelerate, but people are used to bicycles with hand brakes. That is one source of problems."
Both ANBO and traffic safety organisation Veilig Verkeer Nederland have their doubts about making training mandatory. A spokesperson for VVN points out that enforcing training "would be a reason for many people to not to use a mobility scooter in the first place. That would limit their freedom whereas we want to keep people mobile for as long as possible."
The city of Purmerend recently offered a mobility scooter course to 450 people, Dichtbij writes. One third of them took the city up on its offer. During a two-hour workshop participants had to drive over an obstacle course that contained bumpy surfaces and sharp turns and where they had to practice stopping on an incline and parking.
The workshop was provided by scooter seller Harting-Bank who are in favour of making training mandatory—surprise, surprise!
(Photo by Facemepls, some rights reserved)
Tags: accidents, elderly, mobility scooters, safety