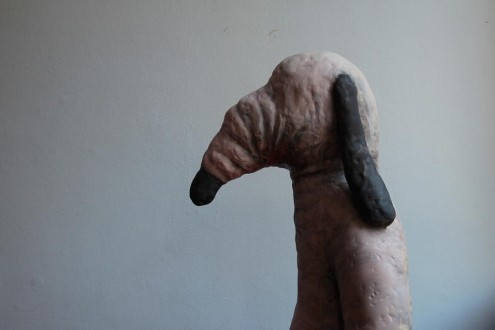 The students graduating from Amsterdam's Rietveld School of Art & Design (in Dutch, Gerrit Rietveld Academie) will be exhibiting their graduation projects until Sunday 6 July 2014.
24 Oranges was invited to come and take a peek.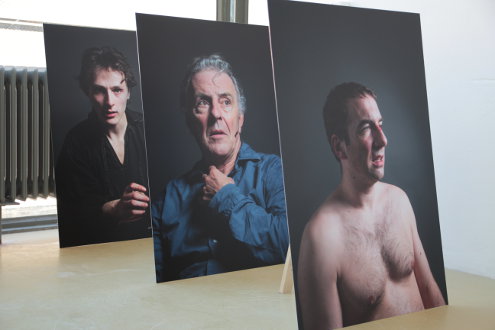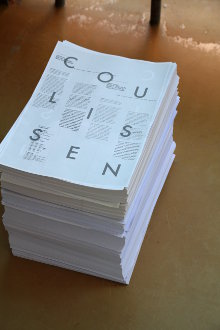 Some of the works, such as the dog above, were displayed without any explanation of what the student was trying to say—probably not necessary with a Disney-like creature anyway—or even the name of the maker. (There were sticky notes carrying the name Tim Maarse near this sculpture, but it wasn't quire clear if the sticky notes referred to the sculpture or were a work unto themselves).
Other artists, such as photographer Casper Koster, left extensive documentation behind for visitors to peruse and take home. His series 'Coulissen' portrays actors as they are waiting in the wings of a stage for their next scene.
Setareh Magshoudi made a mobile mosque of paper: "From my own experience arose the need to create a space for my daily prayers, a temporary space which would provide private space and at the same time a sacred sense."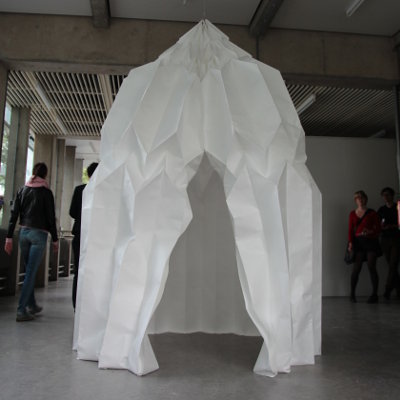 Jessie Hoefnagel was knitting something big. Unfortunately, her seat was in a warm spot because of the sun, so by the time I got there all I found was a note saying "not here until it gets bearable".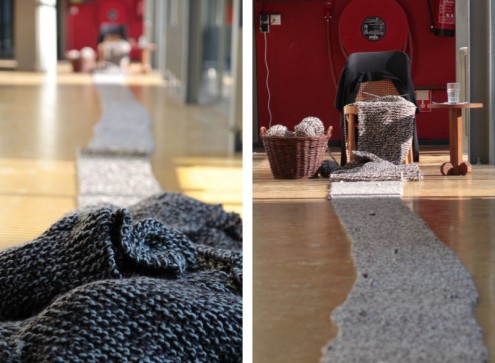 When I had finished walking around, three hours had passed and my feet were sore. Where did the time go?
I will post some more photos to Flickr when I get the chance (and will hopefully be able to add more names of the artists at the same time). Meanwhile, check out the exhibit in person if you have the chance or visit Trendbeheer, as Jeroen Bosch took a load of pictures.