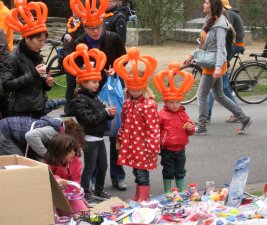 Three years into the switch from Queen Beatrix to King Willem-Alexander and from 30 April to 27 April (26 April if it's a Sunday), tourists are apparently still booking holidays for King's Day three days too late based on crappy intel, and booking agencies aren't exactly warning them. Why would tourists have any reason to think a national holiday has moved back three days?
I was talking to my best friend in Québec on the phone recently, telling her about how royally excited I get about the flea market that is the Netherlands on King's Day. I explained the tourists mishaps that keep happening and she said "what kind of country changes the day of a national holiday?" A country that celebrates it on the birthday of their King or Queen, rather than a set date. Canada Day is celebrated on July 1 for the signing of the British North American act in 1867, so the only moving going on on that date is the Province of Québec (follow the link to get the joke, you'll thank me).
As luck will have it, Wim-Lex just happens to have his birthday close to 30 April, on 27 April, so that was an easy move. However, the date did not move for Queen Beatrix because her birthday is in January, so we're inconsistently consistent. According to Wikipedia, on Princess Wilhelmina's accession to the throne in November 1890 the holiday became 'Koninginnedag' ('Queen's Day'), first celebrated on 31 August 1891. In September 1948, Wilhelmina's daughter Juliana ascended to the throne and the holiday was moved to Queen Juliana's birthday, 30 April. The holiday was celebrated on this date from 1949 until 2013.
Moving the holiday wasn't new, but it hadn't been moved in a while and moves when it's easier, a bit like in the Province of Québec.
(Link: www.waarmaarraar.nl)