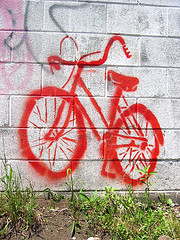 A man from Nieuwegein near Utrecht had to be taken to the hospital last Monday after being hit in the head by a bicycle thrown from an apartment building, Telegraaf reports.
A fight on the seventh floor which the 18-year-old victim had nothing to do with resulted in a bicycle being thrown off the balcony. The victim was about to enter a car for a driving lesson when the bike partially hit him and the car.
The victim has filed charges for attempted manslaughter. The suspect turned himself in on Wednesday and was arrested, according to the Utrecht police.
(Photo by Mike Porcenaluk, some rights reserved)
Tags: crime, Nieuwegein