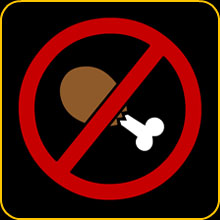 Henk Jan Ormel, parliament member for the CDA (Christian Democratic Appeal), said yesterday on Dutch radio (Radio 1) that his party wants to forbid the publishing of a vegetarian cookbook of the Voedingscentrum (Dutch Nutrition Centre). He claims it is propaganda for the non-eating of meat (?) and also said that the profit of this book (already assuming it's going to be published regardless) should be put towards a campaign that explains 'the social use' of animal testing.
I once read from Belgian animal activists that the EU is working on a system that will allow companies to compare notes on animal tests already done so they don't have to inject that shampoo into the rabbit's eye like 50 times and get the same result.
But for the love of God or whomever, it's just a cookbook!
(Link: vleesmagazine.nl, Photo: veggieunwrapped.com)