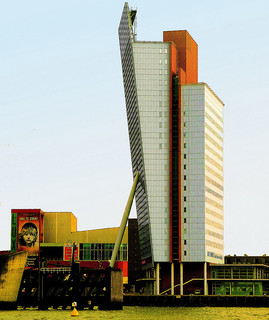 The Netherlands is a European market leader of being stuck with empty office space, with 15% of all office buildings being unoccuppied. Amsterdam clocks in at 18% all on its own, with only Athenes, Greece being worse off at 20%, making it the king.
Since the office buildings have a high value, they cannot be easily converted into much needed living space, which is still considered to be 'urgent'. In Amsterdam North students live in containers when they could be living in converted office space.
According to the city of Amsterdam, a healthy office market should be around 4-8%, allowing for moving, renting and selling. The city claims it is trying to convince office building owners to transform their buildings into incubators for smaller businesses as well as limit the amount of new buildings being built.
(Links: marketupdate.nl, www.vastgoedmarkt.nl, Photo of Rotterdam, KPN building by Roel Wijnants, some rights reserved)
Tags: office space