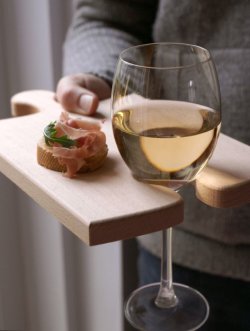 Dutch Design Studio OOOMS from Eindhoven offers a multipurpose and very elegant puzzleboard to liven up your parties. It can be used as a cutting board or serving plate and more puzzleboards can be placed together like puzzle piece to make a bigger and cooler one.
I like the fact that you can easily free up a hand to greet people, which is usually a problem at parties. My only comment is that most Dutch people drink beer at parties and not wine, so the beer glass has nowhere to go.
OOOMS also has fun wooden USB sticks.
(Link and photo: supermarkethq)