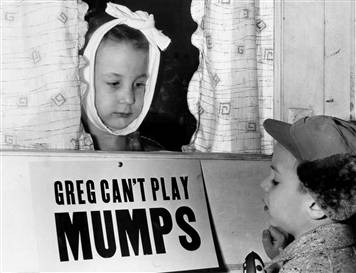 Monday, various media reported a mumps epidemic in the Netherlands for the first time in 20 years. The epidemic is concentrated in the stretch of land between Zeeland in the southwest and the Veluwe heathlands in central Netherlands, the so-called "Bible belt" (that's what they call it in Dutch as well) where many orthodox Protestants live.

Many people in the area refuse to have their children vaccinated against mumps and other diseases on religious grounds.

Mumps have been diagnosed in more than 60 blood samples over the past few months but the public health institute (RIVM) said the real number could be much higher because doctors are not legally obliged to report cases to the authorities.

The "Bible belt" was also hit by polio and measles epidemics in the 1990s.
Other sources claim that these religious communities' children have been vaccinated but that it didn't really help, which is plausible. As well, some 75% of people according to an online poll think it should be forbidden to refuse to vaccinate children on religious grounds. One good point is that their sicknesses bring other people in danger, which is considered asocial at best in such a densely populated country.
(Link: eviewweek.com)