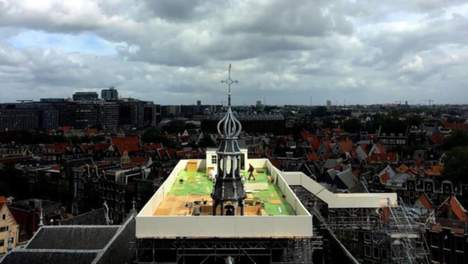 Japanese artist Taturo Atzu, internationally renowned for his temporary art projects that touch upon monuments, statues and architecture, has transformed the historic weather vane and small roof turret of the Oude Kerk (Old Church) in Amsterdam by constructing a roof terrace enabling people to gaze at the city below.
Entitled 'The Garden Which is Nearest to God', Atzu's first public project in the Netherlands, the artwork provides a unique chance to see Amsterdam, which otherwise would not be possible. The roof terrace is open until September 6.
However, not everyone is happy with having 'artwork' attached to this national monument, least of all the Friends of the Oude Kerk Foundation who have it out for the church's director. Well-known Dutch author Geert Mak said that the church should not become the plaything of some art elite, while composer Elmer Schönberger said the church provided one of the 'oldest silence of the Netherlands', which this artwork, although temporary, has taken away.
(Links: oudekerk.nl, www.parool.nl, Photo: www.parool.nl, Tip: John)