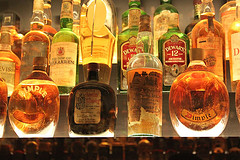 Thieves are not necessarily the sharpest pencils in the pencil case, but this thief, caught on camera, is slow and a bit daft.
He apparently stole a big television, but came back an hour later and put it back properly, plugging in the cables and all, which took him an hour, according to the restaurant manager.
He also stole two laptops and three bottles of whiskey, which he kept, you know, like a proper thief should.
Nobody knows yet why he brought the telly back. My guesses are:
1. He couldn't get the drugs or other illegal things for it.
2. He couldn't sell it.
3. He watched the match and was done with it afterwards.
(Link: www.waarmaarraar.nl, Photo of Whiskey bottles by rickerbh, some rights reserved)