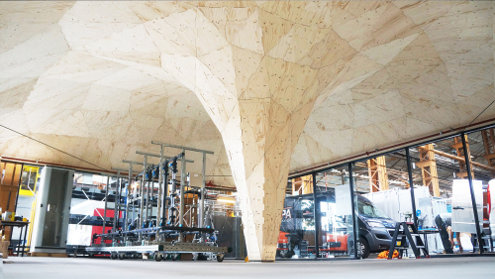 Earlier this year Rotterdam-based 'architectural design and fabrication studio' RAP built an indoor office at the InnovationDock in Rotterdam using software to calculate how a single central column could help support the weight of the 120-square-metre wooden ceiling.
Wooden panels were then sawed and drilled by a robot arm. At least that is what I think it says on their project page:
The Skilledin Office is an innovative indoor-office built in the InnovationDock (Rotterdam, NL) for the Port of Rotterdam. Its organic design balances program constraints and digital load-bearing optimization and fabrication possibilities.

The roof spans 120m2 with the largest span being 8m. It was constructed from 230 unique 37mm thick Metsäwood panels, directly milled from custom fabrication software with a refurbished ABB Robot at RDM Makerspace. All 3.200 Rothoblaas screws were robotically pre-drilled based on a parametric model of the final design.
Tags: architectural design, CAD, fabrication, InnovationDock, panels, robots, Studio RAP, wood, wood working