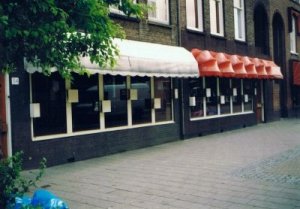 Peep shows where men and couples pay by the minute to sit and watch women (no men or couples?) perform sex acts behind a glass are taxed with the lower VAT rate (Value Added Tax) of 6% instead of the higher rate of 19%, being considered 'cultural'.
The original case was brought by a sex club owner who argued the shows were similar to theatre because they were attended by paying customers. If you follow the link below, you can see two men getting ready to go at instead of women behind a glass. Casa Rosso is also the place to be in the red light district if you're going to see something like this apparently. I just happened to like this picture of the Moulin Rouge – not the French version.
Going off on a tangent: a female acquaintance of mine back in Montreal, Canada, working on a university paper about prostitution was thrown out of a peep show place because she was female. Any woman entering the place was a possible prostitute and so even though it is against the law to refuse entry to women, they did so. I wonder if it's still like that today.
(Link: nrc.nl, Photo of Red Light District in The Hague)
Tags: Casa Rosso, peep shows, Red Light District, tax office