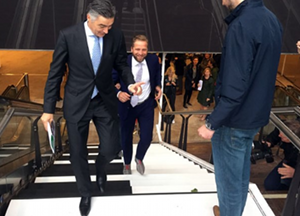 First Rotterdam Central Station had the giant staircase built by architectural firm MVRDV that goes from the station's plaza all the way to the top of Rotterdam's 'Wholesale trade building' ('Groothandelsgebouw'), and now the entrance to Rotterdam's Central Station's metro has piano stairs as well.
The whole piano stairs affair started in Stockholm, and now there are quite a few of them around the world. Apparently, more people will take the stairs instead of the escalator or lift if they can make music, 66% more as was the case in Stockholm.
Rotterdam's piano stairs, which will remain for one year, are pre-programmed with Ludwig van Beethoven's 'Für Elise', although you can compose your own number. Rotterdam alderman Hugo de Jonge would have rather had 'You'll never walk alone', but then said the programming sounded a lot more difficult that you'd think. "The idea is to get people to smile when they use the stairs".
(Link and photo: www.rijnmond.nl)