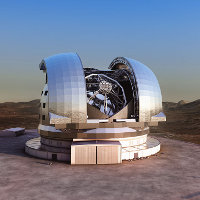 Astronomers of Leiden University have discovered a method of detecting life on planets outside our solar system.
In a paper published in the Astrophysical Journal of 20 February (and also at Arxiv.org) Ignas Snellen and his colleagues explain how current technology can be used to detect oxygen on far away planets using transit observations—observations performed when a planet crosses the line of sight between the observatory and the planet's star.
Until now detecting oxygen from Earth was considered problematic because the oxygen in our own atmosphere would interfere with the observations. Snellen and his team propose to use "the enormous potential of high-dispersion spectroscopy to separate the extraterrestrial and telluric signals making use of the Doppler shift of the planet"—meaning that because the Earth moves, detected oxygen of the far away planet will show up slightly different every time it is measured.
The astronomers expect oxygen could be detected in as little as 'a few dozen' transits. Oxygen is too eager to form molecules with other elements to remain a free agent for long in an atmosphere and an abundance of oxygen suggests it is being replenished by life forms (the way plants do on our planet).
Snellen told Space Daily: "With an array of such flux collectors covering a few football fields one could perform a statistical study of extraterrestrial life in the solar neighbourhood. Although there is still a long way to go, this should be possible within the next 25 years."
A telescope in space could also do the work, but currently there are no plans to build such a telescope and the cost would be high.
(Photo of an artist impression of the European Extremely Large Telescope, because the images of flux collectors I could find didn't seem to look very telescope-like, by ESO/L. Calçada, some rights reserved)
Tags: astronomy, Leiden University, planets