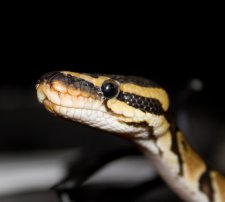 A male Royal Python, a popular pet, travelled more than 3,000 kilometre in its owner's car, hidden underneath the mudguard after having escaped from the house half a year ago. After Raymond Oosterbroek from Deventer had traded in his car, car salesman Marten van Kastel of Tonny Keijzers' in Apeldoorn went to take photos of the Volvo S40 for their website. That's when he discovered the snake. "At first I saw something brown, then noticed that it was a snake's head, then suddenly I saw it move. It gave me quite a scare," he told Telegraaf.
The python escaped half a year ago with its female mate. The female got no further than the bread basket, the male was luckier, at first. The stay underneath the car emaciated it fairly. The people from the car shop managed to drive it into a barrel, and from there into the arms of its owner.
Photo: a Royal Python by j4yx0r, some rights reserved.