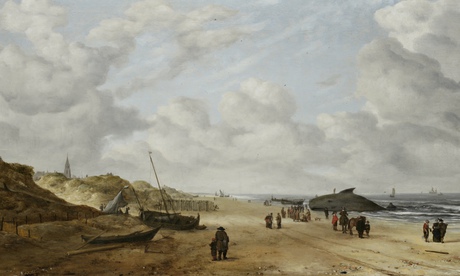 A painting on display for some 140 years at the Fitzwilliam Museum in Cambridge, United Kingdom by Dutch painter Hendrick van Anthonissen entitled 'Gezicht op Scheveningen' ('View of Scheveningen sands' in English) from 1641 has recently been restored, uncovering a stranded whale.
One of the men in the painting seemed to be hanging in mid-air when in fact he was sitting on the whale. Someone at some point in history thought it would be good to paint over the whale, but nobody knows why. Conservator Shan Kuang has apparently not been able to date the extra layer of paint, though she suspects it may be from the 18th century and done because an owner thought the whale was repulsive or that a dealer thought the picture would sell better without it.
Here is a video made by Cambridge University featuring Shan Kuang, the conservator who made the discovery.
(Links: www.theguardian.com, historiek.net, Photo: Fitzwilliam Museum, Cambridge, UK)