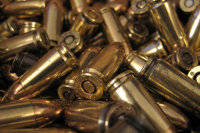 The flat of a deceased Amsterdam resident was recently being cleaned out by a neighbour and in the process they found a revolver no bigger than 4 cm (photo). The neighbour who found the gun told the police who in turn searched the home carefully and concluded the deceased was a collector.
The wee revolver was 28 millimetres in height and 40 millimetres long, and it was loaded. The police said it could wound someone, but not kill them.
Hopefully the gun collection will end up in a museum instead of being destroyed.
(Link: www.waarmaarraar.nl, Photo by Joe Loong, some rights reserved)