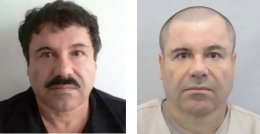 Three children reported a man to the police that they believed might be the escaped Mexican criminal Joaquín 'El Chapo' Guzmán.
The three had spotted a man with a moustache sitting in a van on a parking lot on the Paul Kruger road in Ermelo, the Netherlands, last Tuesday. Drug lord Joaquín Guzmán, nicknamed El Chapo (Spanish for Shorty), escaped a Mexican maximum security prison earlier this month.
One of the children, 10-year-old Peter, had seen a photo of Guzmán in the newspaper and thought he recognised the trademark moustache the criminal sported at some point in his life.
After they had written down the license plate number of the van, the children biked to Peter's house to call the police. Peter's mother told Omroep Gelderland: "They were convinced it was him, he had the exact same moustache. They even knew he had smoked weed and that that is a drug. […] They hadn't even realised the price on his head"
The police called back later to say they had looked into the matter, but hadn't located El Chapo. They don't believe it was him. Mexico has offered a reward of about 3.5 million euro for information leading to the capture of Mr. Guzmán. The US State Departement would also like a word with Mr. Guzmán and have offered a reward of up to 5 million USD for information leading to his arrest.
(Photo: US Department of State)