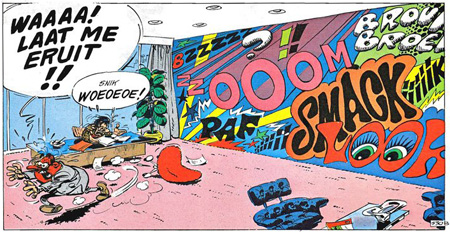 Artist Rufus Ketting recreated a mural from the famous Belgian comic strip Gaston Lagaffe (known in Dutch as 'Guust Flater') because he liked the idea of paintings that could wreck important business deals.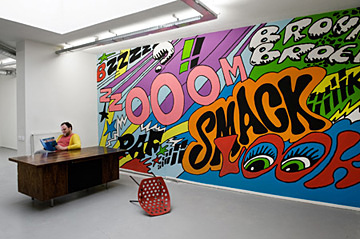 Created by Belgian comics writer and artist André Franquin in 1957, Gaston Lagaffe works at French-language comics publisher Spirou in Brussels whose ultimate goal is to sign contracts with the rich Flemish Mr De Mesmaeker, seen here running away, as he often does. Prunelle (crying at the desk) is one of Gaston's bosses, always desperately trying to get those contracts signed.
The mural can be viewed at Frank Taal gallery in Rotterdam until March 12.
(Link: Via Trendbeheer. Photo by Pim Top, used with permission.)