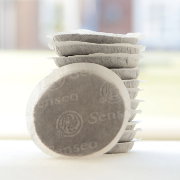 Dutch coffee makers Douwe Egberts have been reducing the amount of coffee in the pods for its Senseo system for years, Volkskrant reports.
The newspaper quotes CEO Michiel Herkemij, who blames former parent company Sara Lee. The amount of coffee in the pods was reduced from 7.5 grams to 7 grams to cut costs. Now that Douwe Egberts is its own company again (called "D. E. Master Blenders"), the missing half gram has been returned to the pods.
It appears the coffee maker wants to go back to competing on quality rather than price. Earlier this year Herkemij told NRC: "If you lower the quality you open the door for white labels. Their pods are 20% cheaper and yet have the same quality as ours. When I worked for Heineken I learned that the only way to distinguish yourself is with better products."
Herkemij also wants to ditch the recent style of advertising which involved celebrities like Doutzen Kroes and Rutger Hauer and return to the cosy mood of yesteryear's ads that used the slogan "het aroma komt je tegemoet" ('the smell of coffee greets you').
Tags: Doutzen Kroes, Douwe Egberts, Rutger Hauer, Sara Lee, Senseo