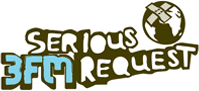 More than 400 bands broke the world record for the longest concert last Saturday by playing 363 hours (15 days and a bit) consequetively in Leeuwarden as part of the Serious Request charity event.
The record attempt produced 17,000 euro through ticket sales for fighting lethal diarrhoea in Africa and Asia. The entire event, which takes place annually while three 3FM radio DJs lock themselves up in a glass house in order to be the focal point for all kinds of spin-off charity drives, produced over 12 million euro for the good cause.
Leeuwarder Courant writes that after the record was broken, the success was celebrated by having a band—the Broken Brass Ensemble—play some more music.
(Illustration: 3FM Serious Request logo)