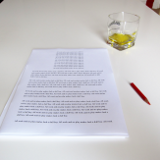 Despite a court order to minimise his letter writing, Mustafa Karasahin of Dordrecht, aka the serial letter writer, has started 'harassing' city hall again with a barrage of letters. The city of Dordrecht has to make its position clearer and has placed Karasahin in a detention centre. Fining the man hasn't worked, so detaining him was the next step.
Dealing with his letters has cost the city of Dordrecht nearly half a million euro. Back in 2013, the court had limited him to 10 letters a month (although the source below says two). Either way, 16 letters as of late was over the limit.
According to the city and experts, the law governing access to information requests needs to be modified to address this kind of abuse and doing so is taking a long time. In the mean time, the serial writer has given no signs of letting up once he's free again. Karasahin owns some 40 buildings and rents room illegally to migrant workers. He is considered a slum lord.
(Link: www.binnenlandsbestuur.nl)
Tags: Dordrecht, letter writing, letters, politics, slum lord