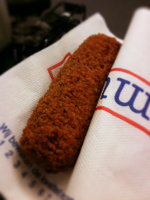 The merger between two of the giants of the croquette industry has failed, Z24 reports.
Manufacturers Ad van Geloven and Royaan failed to come to an agreement. This means a new lease of life for the famous Van Dobben brand.
As we reported in November last year, two of the largest manufacturers of the deep-fried Dutch delicacy called croquette or kroket were to "form a company with a combined turnover of 246 million euro and almost 1,100 employees". Ad van Geloven is behind the Mora brand, and Royaan behind Kwekkeboom and Van Dobben.
The Dutch agency that tries to keep competition in markets fair, the NMa, had given its blessing to the merger last month on the condition that the Van Dobben brand would disappear altogether from supermarket freezers.
(Photo by Omid Tavallai, some rights reserved)