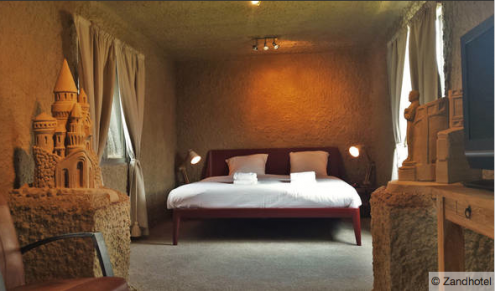 Inspired by European ice hotels, two pop-up hotels ('zandhotels') made out of very 1000 tons of compact sand have opened in Oss, Noord-Brabant and Sneek, Friesland, which are already fully booked for this year. However, you can visit the one in Oss until 28 September and the one in Sneek until 4 October during nearby sand sculpture festivals.
The hotel's basic structure is made of thin walls, covered inside and out with reinforced sand for sturdiness, while basics such as the shower, bathroom and bed are made out of normal materials.
Some media are calling it a world first, we'll stay in our sandbox and call it a Dutch first.
(Links and photo: www.lalibre.be, wtkr.com)