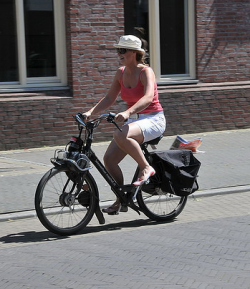 A couple of months back a reader asked if the growing popularity of mopeds detracted from bicycle infrastructure. I could not answer him back then, but now I can. The Fietsersbond (Cyclists' Union) reports that the moped type known as 'snorfiets' has become a plague on the bike path, mostly because they go much faster than they are allowed.
A limited study held by the Ministry of Transport, Public Works and Water Management. concluded that 96% of all 'snorfietsen' go faster than their legal limit, averaging 34 km/h (the legal limit being 25 km/h). About 40% of all collisions between mopeds and cyclists are because the former either brake too late or do not keep enough distance.
Traditionally there has been a split between regular mopeds and snorfietsen in the Netherlands. The former were allowed to go 40 km/h, but their drivers had to have insurance, wear helmets, and pass a test. The slower 'snorfietsen' were considered bicycles with an assist engine and had a dopey image.
In 1999 the Fietsersbond managed to get the fast moped banished to the main road. Moped drivers had to mix it with the cars instead of the much slower bicycles. Nobody knows why young people started driving the uncool snorfiets. Maybe drivers felt unsafe among much heavier cars or maybe they realised a snorfiets is almost the same amount of fun but without all the rules, maybe something else or a mix. What also may have helped is that manufacturers started producing snorfietsen with that cool, Trevi Fountain scooter look.
The problem according to Thomas Aling of the Utrecht police is that being young and owning engine driven vehicles doesn't mix very well: "At that age, looking cool is what matters, and the safety of others is unimportant."
(Source: De Vogelvrije Fietser (PDF), Photo of Solex snorfiets by FaceMePLS, some rights reserved)