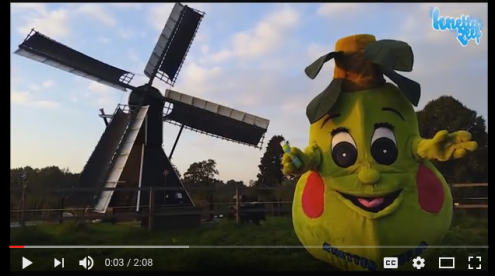 Tessa Tippersma from Velp, Gelderland sells a soap aimed at children called 'Knetterzeep', roughly 'Crackling Soap', which tingles it is used. It's not a foam, but also not a liquid, and comes in a squeeze bottle with an apple-pear smell.
The original idea came from two students from Arnhem who developed the winning soap for a contest that Tippersma has attended. At some point the students needed to focus on their studies, so Tippersma decided to take over their idea and turn the soap into a business.
Knettersoap is sold in some 250 places and there's interest from Belgium, Germany and even China. The soap doesn't need water unlike another soap aimed at children, the SquidSoap, which leaves a print on children's hand that they have to wash off to prove their hands are clean.
In a Consumer Union video, the kids were a big fan of Knetterzeep because it makes it fun to wash their hands. "The Knetterzeep was a hit, the kids loved it, but it doesn't really clean your hands", while showing hands with lots of dirt on them. Tippersma's idea was to get kids to watch their hands after going to the bathroom, which of course would not be full of dirt, but I agree, soap should clean your hands. The competitor, SquidSoap has a fun stamp on it when you press on the pump to get the soap, but then children only wash the inside of their hands to remove it and not the outside like their should.
(Link: www.deondernemer.nl, Screenshot of the Knetterzeep video for the Chinese market)