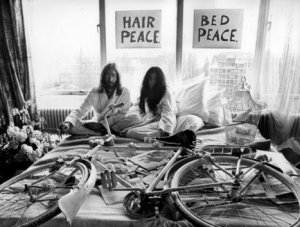 The 1980's song 'Yes, I'm Your Angel' by Yoko Ono has been given a dance remix by Dutch DJ duo Soul Cartel (Nicolas Vesters & David van Ansem) and they only had a week to come up with it. They kept the vocals and changed the rest, which Ono's management liked and put it on the album 'Angel (The Remixes)' along with tracks by a bunch of other DJs, all of which is available as of today in iTunes.
You can hear part of the song here, and if you go to iTunes you can hear more.
What strikes me is that if you listen to the original, Yoko's not so great singing seems quaint, but on a dance track – imagine someone sang on the dance track like that today – it sounds more like keeping Yoko alive on a respirator, musically speaking. The remix is tight, but I think it could have had any number of vocals on it.
By far and wide I prefer Junkie XL's 'A Little Less Conversation' using Elvis' vocals. Dutch DJ Junkie XL made the news in 2002 as he was according to Wikipedia "the first artist outside the Presley organization to receive authorization from the Elvis Presley Estate to remix an Elvis Presley song." I wouldn't really picture another set of vocals on this song.
(Links: www.nieuws.nl, imaginepeace.com, Photo Parool.nl)