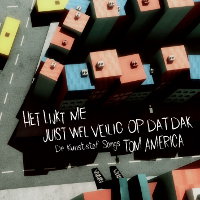 Presenter Frénk van der Linden of the arts and culture radio show Kunststof asked composer Tom America to do 'something' with the past 2,000 episodes, and the result was a CD full of songs that revolve around short phrases uttered by the interviewed.
The CD was released sometime in May, and is available for free from the broadcaster's website.
Tom America was one of the driving forces between the absurdist band MAM, which performed in pyjamas and sung songs about cheese inspired by Picasso.
(Photo: NTR / Job, Joris & Marieke. Link: Moors Magazine.)