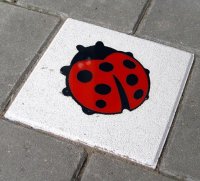 Last Saturday, a 31-year-old man from Zwolle, Overijssel beat up a lumpia (spring roll) seller because the man did not sell vegetarian spring rolls. When the 60-year-old spring roll seller told him this last Saturday, the client got angry and beat the older man repeatedly in the face and on the head. A security guard of the shopping centre where the spring roll stand is located intervened and held the angry man until the police came to draw up a complaint.
Last Sunday in Nijmegen, Gelderland, a 31-year-old taxi driver ran over a 29-year-old man because he refused to pay his taxi driver colleague. The 29-year-old client was driven around for hours in a taxi and when the meter had reached an amount of 250 euro, the man couldn't pay. He got out of the car and walked away. Two taxi drivers came to the 'rescue', with one of them driving over the reluctant client. A witness saw the incident and called the police.
What's with this street tile of a ladybug? Since 1999 it has been the Dutch symbol for "no mindless violence" and can be found in front of bars, clubs and other places where fights usually break out.
(Links: vleesmagazine.nl, knurps.nl)