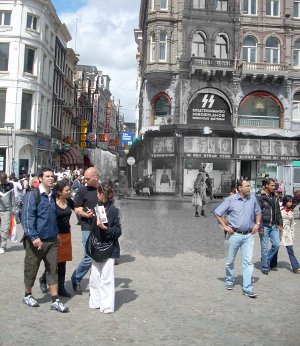 The Schutzstaffel did in fact once have an office in the middle of Amsterdam, on the Dam square to be precise, and historian Jo Teeuwisse has created a great set of photo mash-ups that bring home how the world fitted back then.
Her 'photoshops' consist of modern photos overlayed with war-time pictures she found at a flea market. This works particularly well because from an architectural point of view the city of Amsterdam doesn't seem to have changed much in the past 50 years, if Teeuwisse's photos are anything to go by. And so you see tourists wandering around areas where once the cobblestones were red with blood, oblivious of that fact:
The final two pictures are of Dam square on Monday, 7 May 1945, two days after the German surrender. Thousands of Dutch people were waiting for the liberators to arrive in the square. They had lived through five years of war and months of fear and hunger. In the "Big" Club, members of the Kriegsmarine watched as the crowd below their balcony grew and grew, people danced and cheered.

Then, for some reason, the Germans placed a machine gun on the balcony and started shooting into the crowds. It has always remained uncertain why it happened but the tragic outcome was that, at the brink of peace, 120 people were badly injured and 22 people died.
See also:
Tags: Amsterdam, SS, World War II