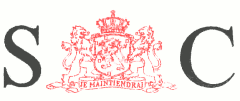 No law or decree has ever been valid in this kingdom until after publication in the Staatsblad (laws) or Staatscourant (other government decisions with the force of law). That is, until July 1st of this year, when the paper editions of Staatsblad and Staatscourant were abandoned and a law came into force that allowed electronic publication of laws and decrees.
The Staatscourant was founded by the first Dutch King, Willem I, in 1814. Volkskrant reports that the king wasn't shy of using this formal publication for political purposes, especially since it could compete cheaply with commercial newspapers.
With the official publications now taken care of by a website, bekendmaking.nl, Staatscourant and Staatsblad publisher SDU will continue with a printed weekly called SC that will focus on commentary on laws.