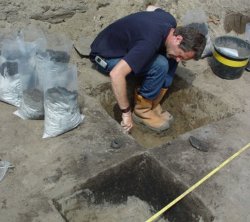 BOOR wrote earlier this month:
During a dig in 2008 in the Rotterdam neighbourhood Beverwaard three pits with cremated human remains have been found. Carbon dating has revealed the remains to be 9,000 years old. That makes these the oldest graves in the Netherlands.

BOOR archaeologists studied the top of a river dune where a tram garage was to be built. The graves, dating from the middle stone age (8000 – 3500 BC), also contained burial gifts such as flint tools, a hammer and a wetting stone.
BOOR is the municipal bureau for archaeology of Rotterdam.
(Photo: BOOR. Link: Telegraaf)
Tags: archaeology, cremation, graves, stone age, tools