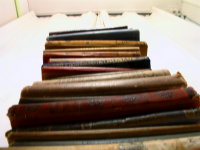 Hans Bauer from Groningen must remove 5,000 books from his home, after a court agreed with housing corporation Patrimonium last Tuesday that his library constitutes a fire hazard.
Telegraaf reports (Dutch) that Bauer had already voluntarily removed 4,000 books earlier after the housing corporation had complained. Looking at the picture accompanying the article, I cannot say that his house looks more cluttered than several book stores I've known, although truth be told none of them are still around today. And 5,000 books is peanuts compared to for instance the library of late writer, TV presenter and bibliophile Boudewijn Büch, which counted 100,000 works at one point in time.
In the meantime, a local self storage company has given Bauer six months worth of free storage, RTV Noord reports (Dutch).