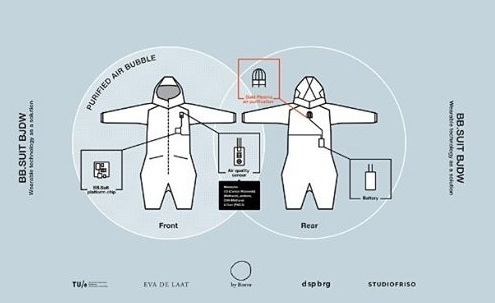 Borre Akkersdijk, a 'textile developer', designed a onesie called the BB.Suit that "allows you to become technology". Presented at the SXSW in Texas earlier this year, the knitted BB.Suit has Wi-Fi, GPS with room gadgets and computer chips. At the time it was a prototype, and the issue of washing the onesie with tech in it was definitely a problem. Akkersdijk aptly points out that wearable technology still has a long way to go.
Walking around and being a Wi-Fi hotspot seems like the most practical use of this outfit, especially abroad.
Embedded with copper wires that enable WiFi, GPS, NFC, and Bluetooth, the BB.Suit turns its wearer into a mappable hotspot with mp3 streaming ability. Batteries, processor boards, and UI actuators live in the BB.Suit's pockets, making the rest of the suit feel seamless, and it's made of two layers of cotton to hide and protect the copper cables, with filling that puffs when it's steamed, meaning the onesie is super-comfy too!
(Link: www.shinyshiny.tv, Photo: byborre.com)