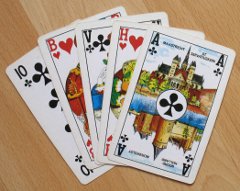 Back in July, an organiser of a Texas Hold'em poker game in The Hague was found not guilty, as his tournament was considered a game of skill rather than a game of chance. This, of course, irritated the Attorney General who wants to outlaw these poker games and is appealing the decision. Since the government has a monopoly on games of chance, it is missing out on this poker money.
In the mean time, while the Dutch have been months without a government (we had elections, but the parties can't agree who will form the coalition), a café in the town of Glane in Twente is playing poker to its heart's content. The current ('demissionary') Minister of Justice told the café to stop, but the court ruling is still on the café's side: poker is currently considered a game of skill and not a game of chance.
So, the question still stands: will poker games be outlawed or will the appeal work? First, a new government and then we'll see.
(Link: depers.nl)