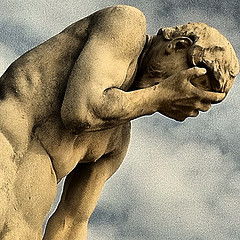 You're part of a gang of six guys who have robbed an elderly woman aged 84 of her bank card: what do you do next? You and your mates go and catch the movie 'Fast & Furious 7' somewhere in Breda, paying with said bank card and get caught because you all share the IQ of a tree.
The woman noticed her bank card was missing after having bought groceries and probably checked online to see if her card had been used elsewhere, like at the local cinema. The police grabbed the stupid six at the cinema because they bought numbered seats, which is a thing in the Netherlands, along with drinking beer while watching a movie.
A bit like a bad car chase scene, one of the stupid six managed to flee and lock himself in the disabled bathroom only to get caught as well because the cops saw him run into it.
(Link: nos.nl, Photo of Paris Louvre facepalm by Phelan Riessen, some rights reserved)
Tags: Breda, dumb criminals, theft, theives