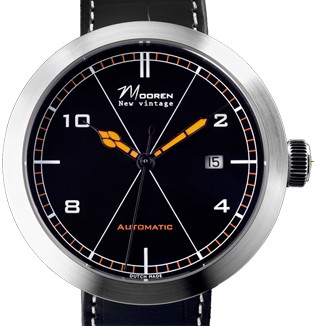 In a way Mick Mooren is a typical teenager. He has a got a typical teenager's room at his parents' house with the highsleeper bed and the posters adorning the wall.
But the posters hint that there is more to Mick. They are posters of watches, and Mick is a 19-year-old watchmaker from Venray in the North of Limburg. And this year he became a watch manufacturer as well.
The first watch that Mooren is producing himself is the New Vintage and is available in black/orange and white/orange. It will set you back a cool 840 euro.
Mick's back story is worth reading in itself. His watchmaking career was propelled earlier this year when he took on the restoration of a classic 1973 Zenith El Primero chronograph, a watch that doubles as a stopwatch. He wrote about the restoration process in detail over at Watchuseek.com. Although the son of a goldsmith and nephew of a watchmaker, Mick did not take up watchmaking until two years ago.
(Via BNR. Photo: moorenwatch.com)
Tags: dials, time, Venray, watches, watchmakers, watchmaking