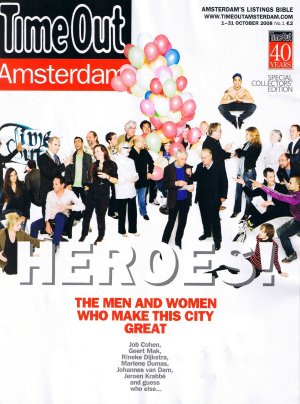 On the ground floor of the new, warehouse-style offices of the Amsterdam Weekly, Amsterdam's prize-winning English-language newspaper that was recently saved by the bell financially, TimeOut magazine made its first public appearance with a launch catered in every sense of the word by local night theatre and AW partner, the Sugar Factory.
The link between the two is in fact a new strong bond: while a new investor swooped in and saved the weekly, he also used the staff to set up TimeOut Amsterdam. The two have separate staffs, with American author Nina Siegal heading up the magazine. Rumour has it this Israeli investor is buying up newspapers left and right, Berlin being an upcoming target.
Although the crowd was very positive about the newcomer, one question remained, asked to me by one of the Dutch lawyers who worked on the investment deal: can an Amsterdam magazine that people have to pay for instead of get for free really work in Amsterdam? There's NL020 in Dutch, and many other little guides… Exactly: there is no comprehensive going out guide of Amsterdam in English, although the weekly has a big section devoted to that. Moreover, the free guides are all in Dutch, which does not help the 1.5 million tourists that come to Amsterdam every year. And if people pay exorbitant amounts for food and beer in tourist traps because they do not know where to go, they're better off buying a world renowned guide like TimeOut to tell them where to better spend their money. And so the lawyer offered to get me another gin and tonic.
For the unconvinced and the "oh no, it's another expat mag crowd" – which it is definitely not! – beware: TimeOut magazine will also have a Dutch edition as of 2009.
Disclaimer: I write freelance for both the Amsterdam Weekly and TimeOut about music and shows.
Tags: Amsterdam, magazine, Sugar Factory, Timeout