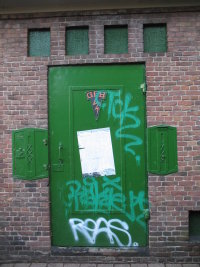 The Tokkie family is suing dictionary makers Van Dale—the Dutch Duden / Larousse / Webster / what-have-you—for 50,000 euro over the inclusion of their family name with the definition "anti-social behaviour." The Tokkies are also suing weekly Revu according to Telegraaf (Dutch), although the newspaper doesn't quite explain why.
The Tokkies gained national fame notoriety in 2003 when they had a friendly chat with their neighbours set their neighbours' house on fire. This drew the attention of the IKON broadcaster who followed the family around for a documentary series (Dutch). Turns out that the few families that occupy that particular part of the Slotermeer neighbourhood in Amsterdam have been living in a state of war for twenty years.
The documentary drew the attention of the country, and while a court evicted the Tokkie clan for anti-social behaviour, the family capitalized on their newly gained fame by making a Christmas song, a carnival song and hiring themselves out as famous Dutch persons. But their fame dried up, and when earlier this month the city of Rotterdam introduced a behavioural test for anti-social tenants that it dubbed the Tokkie-toets (NRC, Dutch), the family declared it had enough of its bad image, and sued the dictionary makers.
See also: definition of Tokkie at Dutchnews.nl.