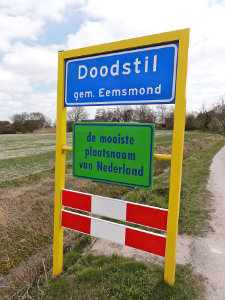 In 2005 a man called Ben Schattenberg organised a poll for the most beautiful town name in the Netherlands.
After a round of nominations voters could send an e-mail to say which one of four names was their favourite:
Doodstil (literally deathly silent, but in fact Doede's bridge).
Muggenbeet (mosquito bite).
Waterlandkerkje (water land church).
's-Hertogenbosch (the duke's forest).
I am not sure how many people participated in the poll (half-way the voting period 5,447 votes had been counted) or how often the poll was held, but it did end up in this sign proclaiming the town's pride ("de mooiste plaatsnaam van Nederland" means 'the most beautiful town name of the Netherlands'). According to Doodstil.net the town with 100 inhabitants celebrated the election at the time with a barbecue in the garden of the Knol family.
(Photo by Wikimedia Commons user Gouwenaar who dedicated it to the public domain; link: Eamelje.net)
Tags: Doodstil, elections, Groningen, names, polls, toponyms