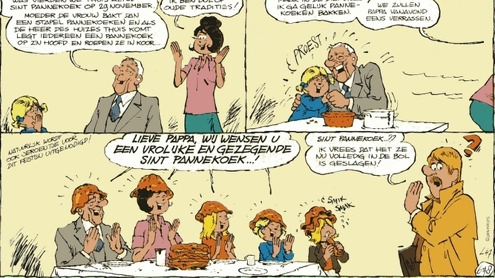 On 29 November the country celebrates Sint Pannekoek (Saint Pancake), notably the people of Rotterdam.
These people will take photos of each other wearing pancakes on their heads, and of course they will eat pancakes. In 2014 (NOS.nl reported back then) hundreds of people took to social media to share the photographic evidence of their pancake wearing ways, and the Koninskerk in Rotterdam organised a pancake feast, the proceeds of which went to charity.
Interestingly, there is no actual Saint Pancake. He and his tradition were made up whole cloth by Jan Kruis for his comic Jan, Jans en de Kinderen (John, Joanie and the Kids) and in turn by his character, grandfather Gerrit, who wanted to get out of having to eat boring beans.
In the strip, grandfather tells the children a strong tale about a cherished childhood tradition: "Mother bakes a huge stack of pancakes and then when the man of the house comes home, everybody puts a pancake on their head and shouts: 'Dear father, we wish you a happy and blessed Saint Pancake.'" Joanie replies: "I love old traditions!" and changes the dinner she had planned.
Author Jan Kruis, whose comic has been published for decades in leading women's magazine Libelle, hopes that one day he can get the royal family to wear pancakes on 29 November. "That is my ultimate hope for this tradition", Kruis told RTV Drenthe two weeks ago.
(Illustration: crop of the comic that started it all by NOS.nl / Jan Kruis)