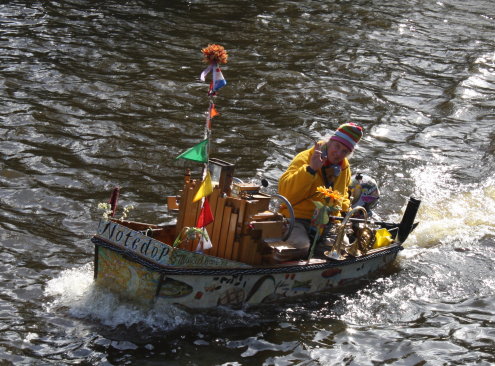 I ran into the good ship Notedop today on the Zuideramstel Kanaal in Amsterdam. It's basically a floating organ, and I can tell you from personal experience that it can be heard loud and clear dozens of meters away. The Notedop (nut shell) and its owner Reinier Sijpkens can be found wherever they have a canal and a bridge and where good cheer is in need. Sometimes even a swimming pool suffices.
On his website Sijpkens writes (Dutch/English):
I made a small boat, "de NOTEDOP", designed a miniature church organ and had it built by Henk Smit. Next I created all kinds of mostly classical arrangements "in a nutshell" of 1 or 2 minutes for organ, trumpet and surprise instruments that sound well against a water city backdrop.

I brought odes to people on the bridges of Amsterdam, Utrecht, Leiden, Delft, Gouda, Enkhuizen, Alkmaar, Venice, Oudewater, Bruges, Hoorn and many other cities. You can experience this yourself if you book my water concert or happen to run into me.
Thank god for URLs on the sides of boats. I had been so wrapped up in my own thoughts that I forgot to talk to Sijpkens when I had the chance.