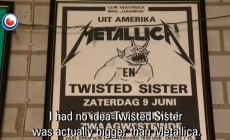 'How Metallica raised hell in De Westereen' in Frisian with English subtitles gives you an idea of how laid back Frisians can be and how that worked to history's advantage, like it did for Metallica.
This historical gig featured Twisted Sister as the opening act by mistake, making their hit song 'We're not gonna to take it' that much more amusing, accidentally giving Metallica their first headliner in Europe. The bookers said to themselves, "they'll be just as big as Iron Maiden", and they were right.
The local church was less amused about having a 'hard metal rock band' play on Whitsun and asked the city to revoke the license for the show. The bookers' answer to that was "but the Bible doesn't say: Thou shalt not organise a hard rock concert" and
"church organs are loud, too".
You'd assume the problems with the show for the church would be the lyrics because back in the 1980s all that devil talk was often banned. However, the Frisians in the documentary didn't really understand the lyrics, so they didn't care. The reverend at the time just thought it was too loud and not the best choice without any ranting and raving about blaspehmy like they did in the US at the time.
After looking at a few pictures, Metallica's James Hetfield talks about hanging out with the fans, having a few beers and this one guy with real wooden clogs on.
Even if you're not a metal fan, this video is still a great story.
'How Metallica raised hell in De Westereen' (English subtitles):
(Link and screenshot: 3voor12)