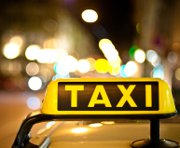 As of today selected Amsterdam clients using taxi app uberPOP can organise taxi-like rides with private persons and pay for them using their smartphone. The company also offers two other services that feature properly licensed drivers and vehicles, but it is uberPOP that remains a thorn in the side of cabbies, as it offer rides up to 50% cheaper than normal cabs.
Besides having much more overhead (insurance, permits to drive over tram rails and bus lanes, etc.), cab drivers in Amsterdam have to write down every trip they take, which I find ridiculous and dangerous as many do it while driving, something an uber driver probably doesn't have to do.
In London, where the app has been available for some time 12,000 taxi drivers protested last month, although many Londoners are gladly using the app. Earlier this year in Paris riots broke out, with people being hit and cars being smashed. The city of Brussels demanded uber make changes to its app in order to keep it legal, including making drivers obtain certificates of good behaviour.
The main objection to the app is that it takes work away from real taxi drivers, but then the app is legal and the drivers and cars currently meet local rules and regulations. Anyone is free to take a properly licensed taxi if they want, but with the mess that is Amsterdam's taxi services, switching to uber will probably be a major relief for a lot of people.
In Amsterdam drivers continue to refuse small trips, preferring tourists going from Amsterdam Central Station to Schiphol Airport. They also often refuse animals, sometimes speak poor Dutch and/or poor English, and have one of the highest fares in the world. I personally get good taxi service when I need it because I don't take taxis from Amsterdam Central Station, which is physically regulated at night by security staff like some Banana republic. Even tourist website 'I Amsterdam' says "Amsterdam recently launched a campaign to improve taxi services", while happily listing uber under 'special taxi services'. Fancy that.
(Link: www.elsevier.nl, Photo of taxi sign by Ben Fredericson, some rights reserved)